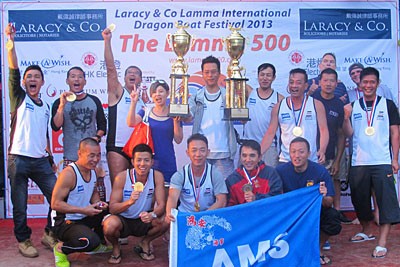 AMS International Group Dragon Boat Team, 2013 Open Cup Champions.
See all photos of Prize Winners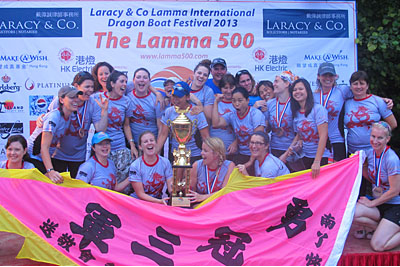 Lamma Dragons, 2013 1,000-metre Women's Cup Champions
The Lamma 500 organisers are proud to announce that the 2013 event raised HK$20,000 towards the local charity Make-A-Wish Foundation of Hong Kong.
Make-A-Wish mission is, "To grant wishes to children with life-threatening illnesses." If you are thinking of donating to a charity, please think of Make-A-Wish as one of your options; they perform a vital function in the community and have a meaningful effect on the lives of many Hong Kong children and their families.
Highlights of the Lamma 500 2013
Courtesy of Aerobots
Courtesy of Donna Foreman
2013 Race Results
1,000m Open Champions
AMS International Group Dragon Boat Team
1,000m Open Runners-up
The Liechtenstein Princely Navy
1,000m Open Third Place
Team Mushu
1,000m Senior Mixed Champions
South Lantau Paddle Club
1,000m Senior Mixed Runners-up
SMUGz Silverbacks
1,000m Senior Mixed Third Place
Dragons of North America (Team DNA)
1,000m Women's Champions
Lamma Dragons
1,000m Women's Runners-up
BGC Stormy Dragons
1,000m Women's Third Place
Globe Paddlers (AWA)
1,000m Mixed Premier Champions
BGC Stormy Dragons
1,000m Mixed Premier Runners-up
HK VRC Paddle Club
1,000m Mixed Premier Third Place
Dragons of North America (Team DNA)
Mixed Premier Bowl Champions
Dragons of North America (Team DNA)
Mixed Premier Bowl Runners-up
Chinese International School
Mixed Premier Bowl Third Place
South Lantau Paddle Club
Open Plate Champions
Lantau Boat Club
Open Plate Runners-up
HKUST Dragon Boat Team
Open Plate Third Place
BGC Stormy Dragons
Mixed Premier Plate Champions
Cathay Pacific-B & Blue Sky Sports Club (dead heat)
Mixed Premier Plate Third Place
Seagods-A
Mixed Senior Champions
Lamma Dragons
Mixed Senior Runners-up
Lantau Boat Club
Mixed Senior Third Place
SMUGz Silverbacks
Women's Cup Champions
Globe Paddlers (AWA)
Women's Cup Runners-up
Lamma Dragons
Women's Cup Third Place
Lady Buzz
Open Cup Champions
AMS International Group Dragon Boat Team
Open Cup Runners-up
Royal X-A
Open Cup Third Place
Buzz Dragons
Mixed Premier Cup Champions
Team Mushu
Mixed Premier Cup Runners-up
Lantau Boat Club
Mixed Premier Cup Third Place
Lamma Dragons