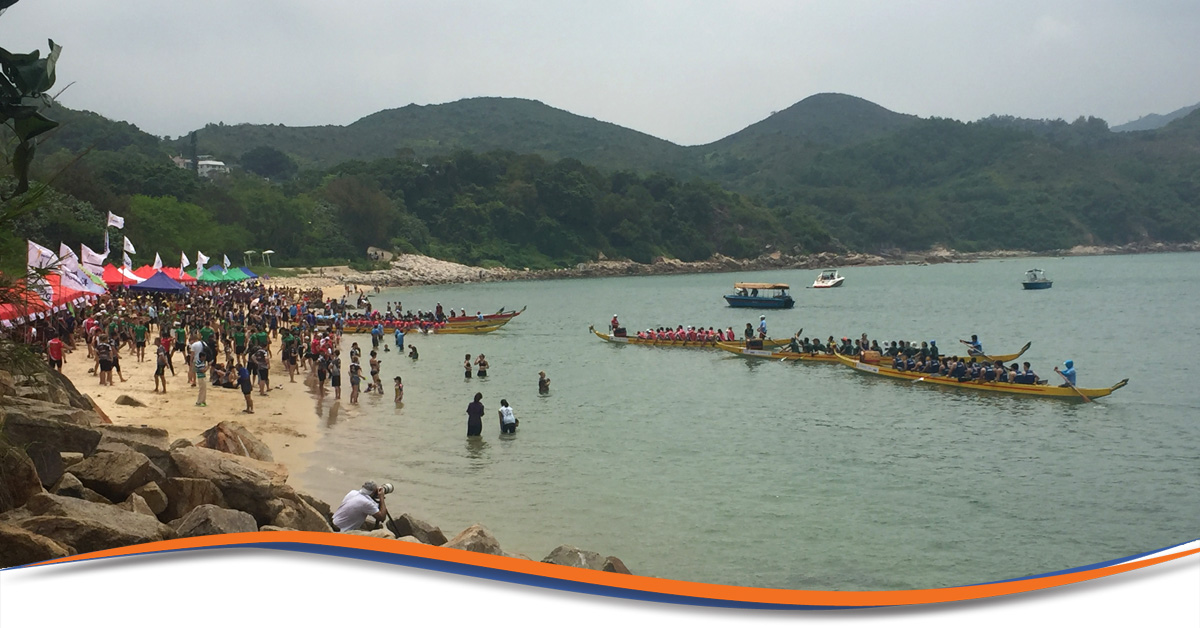 Staged off Tai Wan To Beach (Power Station Beach), on Lamma Island, Hong Kong, the Lamma International Dragon Boat Festival has a spectacular backdrop of the Lamma coastline, overlooked by the imposing peak of Mount Stenhouse. And of course the Hong Kong Electric Power station quay provides the race line, and perfect vantage points for the start and finish line marshalls.
Getting there
Public transport
Most visitors and paddlers use the Hong Kong & Kowloon ferry service between Pier 4 of the Outlying Island Ferry Piers and the Yung Shue Wan pier on Lamma.
Warning: Do not get the ferry to Sok Kwu Wan otherwise you will endure a long walk over the hills.
The walk from the ferry pier to the venue passes through the busy village of Yung Shue Wan, and takes about 15-20 minutes. Yung Shue Wan has a number of small 'Mom & Pop' type grocery stores, restaurants, coffee shops and an HSBC bank with ATMs.
Leisure Junks
Tai Wan To Bay is suitable for leisure junks which can moor alongside the race course.
There will be a limited number of small boats to ferry paddlers to and from their junks at the event. We recommend that if the junk has its own tender, you arrange with your junk captain to use it in the event that there is a problem (or delay) in disembarking. Races cannot be delayed because of paddlers' slow return from a team junk. There will be no fee for transport between the junks and the beach. Please note: you may not have a dry landing; expect to get into the water at the beach from the small boat.
Please contact Brad Tarr for further information.
The Venue
Teams may prebook a marquee at $500 for the day. There are NO EXTRA marquees available for rent on race day. Marquees are positioned along the sandy Tai Wan To Beach, each with a sea view!
Although not a designated leisure beach by the LCSD, Tai Wan To is suitable for swimming.
Mobile toilets are provided, together with a limited camp-style shower facility.
On race day, food and drinks (a bar) stalls, together with Face Painting and other stalls are set up on the 'Power Station Road' behind the beach. Crews are also recommended to bring their own 'sports' snacks and food for the event, or pick some food and drink in the village on the way to the beach.
Water is available at the water filling station. We do not providing individual bottles of water; therefore, all crew members are encouraged to bring their own reusable bottles. We will have Lamma 500 water bottles on sale on the day, but in limited supply ($30 each). Water filling is free!