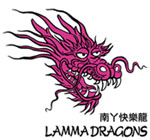 The Lamma Dragons have a special place in the history of dragon boating in Hong Kong.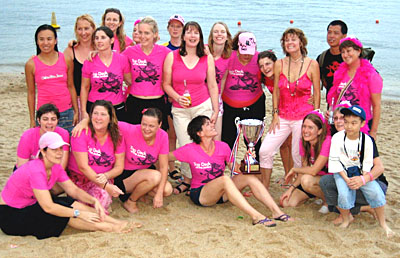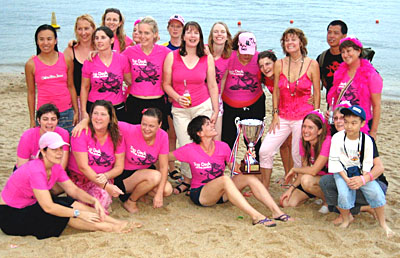 In the mid-1980s, a group of curious women noticed the local fishermen practicing the traditional sport of dragon boat racing in the Yung Shue Wan Harbour. Plucking up their courage, they inquired if the fishermen would teach them how to dragon boat so that they might enter local races and test their skills against the local competition. In this way, the Lamma Ladies Dragons became one of the first Western teams to compete against the local fishermen and women's teams.
In the years that followed, a strong team of Western men followed suit, and also began dragon boating under the watchful eyes of the local fishermen.
The generosity of our early tutors was not wasted. The Lamma Dragons have won numerous cups and medals over the years, at home in the Hong Kong races, and interna
tionally in China, Japan, Malaysia and the Philippines. The Lamma Ladies Dragons (known abroad as the "Pink Ladies") in particular have consistently proven themselves to be powerful competitors, capturing the gold cup at Stanley in 1997, 1999, 2001, 2003 and 2006.
For approximately 20 years, the Lamma Dragons have practiced their sport on the waters of Yung Shue Wan Harbour. The crews today are a diverse group of Europeans, North and South Americans, Asians, Australians and New Zealanders and Africans. The years have brought many changes to Hong Kong, but one thing has always remained the same for the Lamma Dragons: we remember and honour our roots.
Today, the fishermen of Yung Shue Wan still guide the helms of our boats. They remain our strongest supporters and our greatest allies in a sport we have grown to love. We would not be here today without their constant help and kindness.