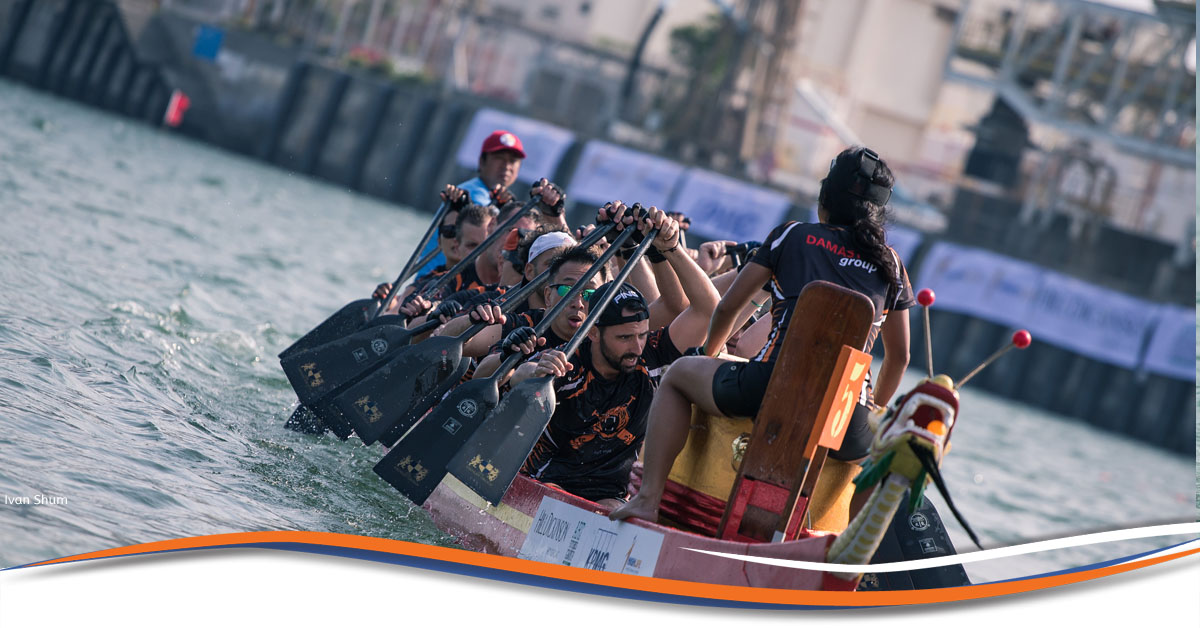 Highlife Trading Company, Thirsty Horse Ltd. and the
Lamma

Dragons Dragonboat Club will host the Sixteenth Annual 

Lamma

 International Dragon Boat Festival (

Lamma

 

500

) at Tai Wan To Beach, 

Lamma

 Island on Sunday, 5 May, 2024, from 09:00 to 18:00 hrs.
Registration:
Fees from 2023 for information only:
Early Bird Fees for Adult Teams: $4500
Early Bird Fees for U18 (Youth Mixed) Teams: $2500
Regular Fees for Adult Teams: $4900
Regular Fees for U18 (Youth Mixed) Teams: $2900
Early bird fees close at 6:00pm on Tuesday, 28 February 2023 (payment must also be made by this date). After 28 February, all team entries will pay regular rates.
Final Registration closes at 6pm, April 17, 2023. Crew entries are limited, so apply soon to avoid disappointment.
Registration is now closed.
---
Race Categories and Distances
Categories:
Men's, Women's and Mixed premier 500m races;
Men's, Women's and Mixed premier 1,000m races; and
Youth Mixed Crews (aged 12-17) 500m races. Please note, U18 crews do not race in the 1,000m event.
500-metre Tournament
The 500-metre race has two heats in all categories. Top teams will progress to finals (Cup for U18 Teams, Cup and Plate for Open Men's, Women's Teams; Cup, Plate and Bowl for Mixed Premier Teams). Teams that do not progress to the finals will not have another 500-m race on the day. We recommend all Adult Teams enter the 1,000-Metre race if they wish to have at least three races throughout the day.
Cups and medals in the 500m for Open Men's, Women's, and Mixed Premier divisions (for 1st, 2nd, and 3rd place).
Cups and medals in the 500m Mixed Youth Race (for 1st, 2nd, and 3rd place).
Plates in the 500m for  MixedPremier divisions (for 1st, 2nd, and 3rd place).
A Bowl in the Mixed Premier division (for 1st, 2nd, and 3rd place).
 1,000-metre Tournament
The 1,000m race is an optional event but it is one of the most popular features of our event. For teams who may not make it to the final race, it also offers a third race of the day so that every club has as many opportunities to compete on the water as possible.
Cups and medals for 1st, 2nd, and 3rd place in the Men's, Women's and Mixed Premier divisions.
Programme (TBC)
9am-1:30pm – Heats running at 10 minute intervals
1:40–2:30pm – Lunch break /catch up
2:30-4:00pm – The Lamma 500 signature 1,000 metre tournament
4:00-5:20pm – Finals
5:20pm – Prize Giving followed by Beach Party
For reference
---
FAQ
Do you have a recommended supplier for team kit?
If you'd need any team shirts or caps, please contact our sponsor "Highlife" by reaching out to Brad Tarr at brad@highlifetcl.com
Are paddles provided, and can I bring my own?
All race equipment, including paddles, will be provided. However, paddlers are welcome to use their own paddles so long as they comply with IDBF specifications.
Can we hire a steersman?
There is a charge of $600 to hire a steersman for the full day per boat crew. This is non-refundable. A steersman shall thereafter be made available to the crew all day. Crews cannot pick their steersman; the Race Marshals will assign one. This cost is applied per crew, not to an entire team.
Can we hire a tent?
A marquee type tent can be hire at $600 for the full day.
Does the Lamma 500 have a sustainability agenda?
The Lamma 500 is a Green Event. We urge all teams to bring their own refillable water bottles. Our water-station is free of charge. We will also have recycling bins and a paperless (online) programme. We urge all our vendors, competitors, and guests to work to keep our environment clean.
Is the event associated with any charities?
The Lamma 500 supports the environmental charity Plastic Free Seas as well as the wonderful not-for-profit Women in Sports Empowered Hong Kong (睿動香港), which seeks to educate, empower and connect women and girls to realize their aspirations through sport.
---
Race Procedure
500-metre Tournament – Outline
A white flag is raised to signal that the race will begin within 2 minutes time. Boats are expected to line up and be ready to go.
A red flag will be raised when boats are in alignment. The red flag shows that the start of the race is imminent.
The race starter will call "Ready", and then, to start the race, the starter will drop the red flag and sound an air horn.
Teams "go" when the red flag drops. (Note: starter will not call "attention" in addition to "ready" call).
The starter will blow the air-horn two times if a race start is deemed unfair, and signal for a restart.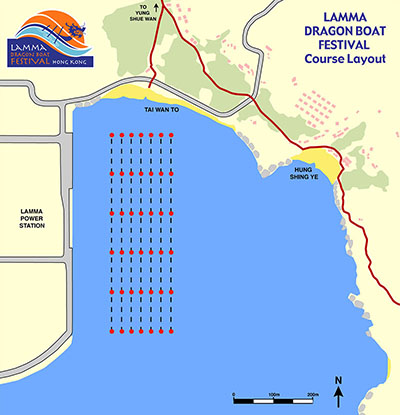 1,000-Metre Tournament – Outline
The Racing Course: The Racing Course is circulatory, with two straight sections and two turns in one circuit of the Course (see Map).
Boats shall be started at intervals, that is, a 'staggered' start. The starter shall call each boat forward, and count them down to their start. The first crew should be positioned on the 'right of the line' looking up the course and 2-3-metres to the right of the lane marker.
As a staggered start is used, the Start Times (based on intervals, not when the boats pass the start line marker) will be compared against the Finish Times recorded for crews.  The resulting Time Differential will be used to calculate a crew's actual Race Time.  Any race Time Penalties incurred by a crew will then be added to give a crew its Gross Race Time.
---
Race Results 2019
Download the Lamma500 app for race results, team progressions and ferry schedule!
---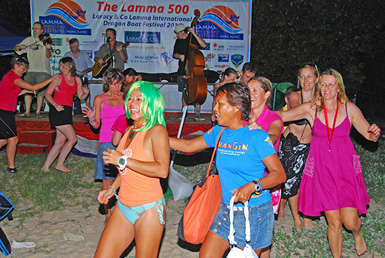 Other useful pages