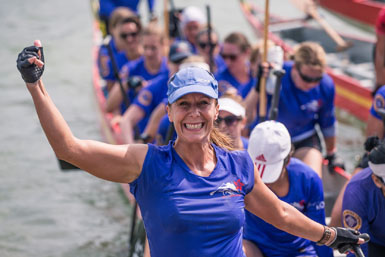 The Lamma500 is recognised as one of Hong Kong's best sporting events with a well-organised programme of races and social activities.
Well attended
With international-standard 500m and 1000m races for men's, women's and mixed teams, the event attracts participants from across the world and we were honoured to be mentioned as one of Asia's best dragon boat events in a recent survey. Even in its first year, the Lamma500 was attended by 52 teams taking part in a programme of 35 races. In its eleventh year over 80 teams took part in 43 races, including the Lamma500's exclusive event, the 1000m, and the Youth category. This year promises to pack the same energy, professionalism and fun!
Well located
The day-long event takes place in the spectacular Tai Wan To Bay on Lamma Island. Most teams set up base in team marquees (available for hire when registering) which line the long sandy beach. Other teams relax on junks which can anchor just off the race course providing teams and their supporters with amazing views of the races.
Well organised
Two sets of boats are used for racing which ensures that races run efficiently and an experienced event team manage the races, with digital time-keeping and camaras at the ready to help the judge the occasional photo finish. Food outlets and a beach bar, operated by The Island Bar,make sure that no one goes hungry or thirsty at the Lamma500. The busy day ends with prize giving and an after party with DJ and dancing. It is an excellent event!
Charity & Community
The Lamma500 is all about dragon spirit and giving back to our community is at the heart of the event. The Lamma 500 supports the environmental charity Plastic Free Seas as well as the wonderful not-for-profit Women in Sports Empowered Hong Kong (睿動香港), which seeks to educate, empower and connect women and girls to realize their aspirations through sport.
In the past we have also raised more than HK$220,000 for Make a Wish Foundation and raised public awareness of this very worthy charity.
Since the first year of the Lamma 500 we have worked closely with the Lamma fishing community, seeking their advice and support in the organisation before and on the day.  Every year the event brings thousands of additional visitors to Lamma, giving a welcomed boost to the local economy.
---
A Green Event!
The Lamma 500 is a Green Event. We offer recycling stations, paperless programmes, a water refilling station (at no charge), and look to ban single-use plastic! All competitors are encouraged to bring their own refillable water bottles. Please remember to do your part to take care of our environment!
---
A 16-Year Timeline
---